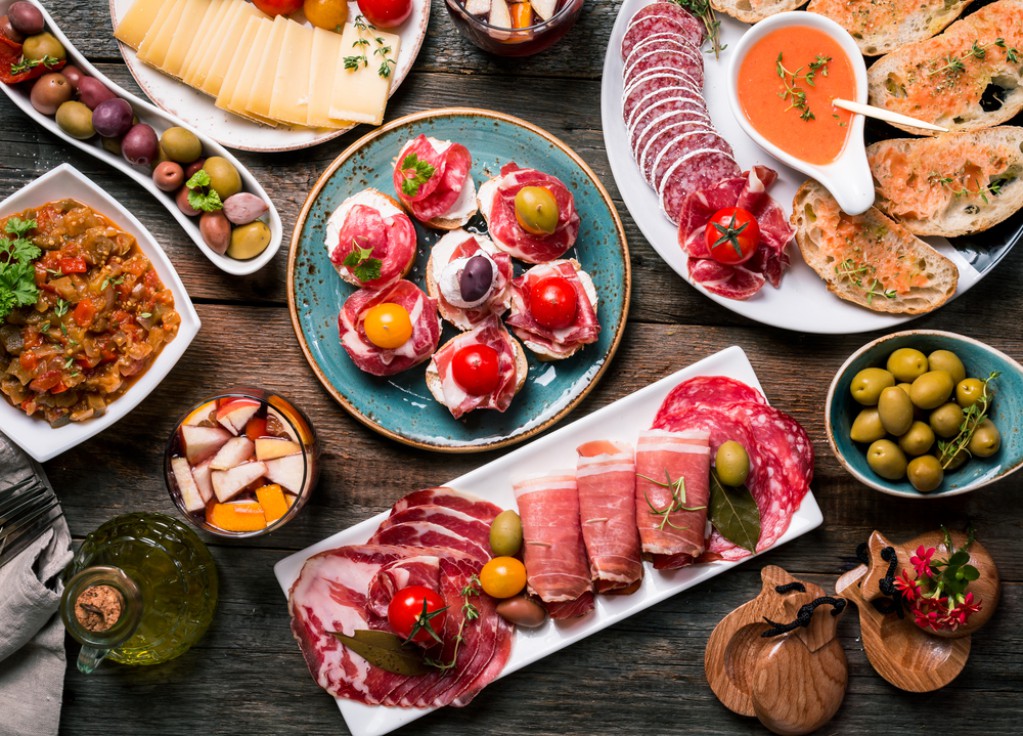 Six Top Tips on Making your Event buffets healthy
When planning a conference or big office meeting, many businesses will order buffets as they are a great way to feed a large amount of people in a small amount of time. When thinking of a buffet meal however, immediately images of overindulgence and bloated stomachs come to mind as that never ending table of food is just far too tempting for many! When dining out with friends or family then any healthy eating plans can happily be put aside for one evening of fun, but this is different when you are arranging a work meeting or conference.
Although many of your colleagues may worry when they hear that you plan to order buffets at your next event, this doesn't necessarily mean that it has to be unhealthy. Eating too much sticky, greasy and deep fried food will not prepare your guests well for the next meeting after lunch, nor will it keep in line with a healthy diet. Many corporate buffet caterers can offer a wide selection of foods that go beyond the conventional sandwiches and potato salad!
1.
Try Tapas
Tapas is a style of eating that originates from Spain which features a wide selection of snacks or appetisers, hot or cold. With lots of different options for small dishes, Tapas lends itself perfectly for a buffet meal! Typical foods included in a Tapas selection include prawns marinated in garlic and chilli, fish stews and roasted Mediterranean vegetables such as peppers, olives artichoke and more. This can be served with a tasty loaf of rustic bread to soak up the juices of the stews, providing a hearty carbohydrate to keep your guests feeling fuller for longer.
2.
Go Greek
Greek food is making a comeback, with many restaurants now producing these tasty dishes. A typical Greek meal with involve roasted meat that is packed with exotic spices, adding a large helping of protein to your buffet. This will be served with a fresh salad garnish of tomatoes, lettuce and onions, with sauces such as hummus or tzatziki on the side. Unlike conventional sauces you would expect to see on a buffet, these condiments are made of mainly chickpeas and yoghurt respectively, adding a guilt free accompaniment to your spread.
3.
Sushi
Sushi, originating from Japan is a notoriously healthy food, containing only fresh rice, fish, meat and vegetables. Like tapas, sushi is served in small portions for you to pick and choose a selection of finger foods, making it very adaptable for a buffet. Even those who don't dare to try a sushi roll with fish in them will not be able to resist the tasty spring onion and cucumber option.
Next time you are about to order a buffets from a catering company, keep these tips in mind to help make your buffet a healthy one.
4.
Go Mediterranean
There has been a number of studies into the health benefits a Mediterranean diet many of which have highlighted weight loss and lowered risk of heart attacks, strokes, type 2 diabetes and premature death among many others. There is however no right or wrong way to follow a Mediterranean diet, as there are many countries around the Mediterranean Sea. This means different peoples have adopted different Mediterranean diets depending on the area they're in. As a general guide however, for a great balanced and healthy spread for your guests, the following points serve as a great guide:
Buffet Spread should have Plenty of the following: Vegetables, fruits, nuts, seeds, legumes, potatoes, whole grains, breads, herbs, spices, fish, seafood and extra virgin olive oil.
Buffet Spread should be Moderate in the following: Poultry, eggs, cheese and yogurt.
Buffet Spread Should Limit the following: Red meat.
Buffet Spread Should Avoid the following: Sugar-sweetened beverages, added sugars, processed meat, refined grains, refined oils and other highly processed foods.
Vegetable dim sums including vegetable money bags; vegetable gyozas & vegetable spring rolls will therefore be a great addition for a finger buffet. Alternatively, an Imperial Dim Sum selection of prawn crouton balls, duck spring rolls, chicken & black bean Asia sticks, chicken & ginger pastry parcels will go a long way to compliment any spread to great appeal for your guests.
5.
Try Indian
A lot of westernised Indian food has gained notoriety in its unhealthy effects particularly with perceptions of cooking methods adopted including deep frying, poor quality produce such as fatty meats and all that sort of stuff. This rightly makes the fried accoutrements such as samosas, popadoms and bhajis, as well as cream-rich curries a must avoid in the main. However, the problem seems to be one of methods and produce rather than the cuisine itself. Authentic Indian food is in fact much healthier. The authentic spices that dominate authentic Indian cooking are not only a source of the unique flavours in Indian cuisines but also have healthy benefits including improving risk against some cancers, anti-inflammatory benefits and healing properties. They have also been claimed to have an effect on preventing Alzheimer's disease. The most dominant choice in the cuisine is the vegetable curries which are a mainstay of many regions in the country and many meat-eating areas eschew pork or beef. A curry night for your guests or and Indian snack selection of onion bhajis, pakoras, vegetable samosas and spring rolls can all add to healthy spread for your guests.
6.
Thai
This is the little adopted cuisine in many event buffets from experience and yet it comes with cancer-fighting dishes in the form of Tom Yung Gung soup, which is made with shrimp, coriander, lemongrass, ginger and other Thai herbs. These will be a great appeal for winter nights or summer evening events while at the same time allowing your guests in dishes full of strong antioxidants that inhibit cancer growth. With its vast array of choice, many elements of Thai cuisine have been shown to boost the immune system and aid digestion. These include the commonly tried and tested items like Ginger, turmeric and lemongrass, which regularly feature in dishes, that are now known to have been used in Asian medicine to treat a plethora of different complaints and illnesses. But also on a wider spread appeal, the flavours and colours loaded with fresh vegetables, seafood and added spices, will all contribute to improved metabolism and fill the body with vital nutrients. A Thai cuisine looks appealing for guests to try something new and exotic all together.
About Benons Catering
At Benons Catering, we have developed an expertise in professional catering that thinks outside the box when you're in need of catering for a whole host of corporate events, parties and meetings, all over the country. Find out more by visiting The Nation's Premier Private, Corporate and Wedding Catering Company
Tags: Healthy buffet tips, order buffets, corporate buffet caterers London, eat healthy, buffet