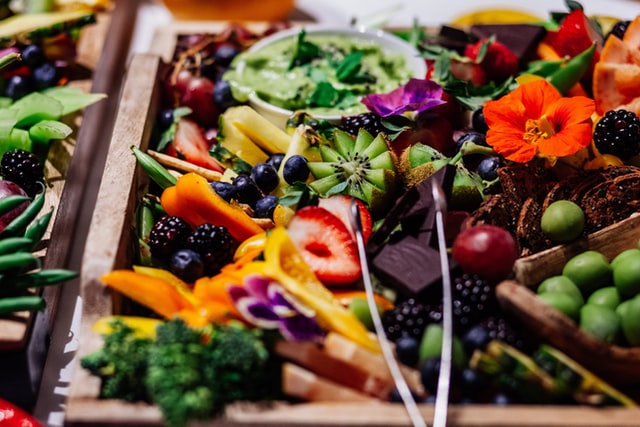 By Kylee Ryers 09/02/2021
Top Catering Choices For Foodies With Diabetes
There are 3.9 million people in the UK with diabetes, and those holding catered events will undoubtedly give health as much priority as flavour when selecting dishes. Diabetics can eat most healthy foods in regular amounts, since they are usually recommended a Mediterranean-style diet comprising fruits and vegetables, lean proteins, pulses, and whole grains. This means they can still choose from a wide array of dishes, but need to avoid high-sugar foods, refined carbohydrates, saturated fats, trans fats, and high-salt and high-cholesterol foods. How can they ensure that they can enjoy their catered events as much as their guests do?
Fibre In Living Colour
Fibre-rich foods are important for diabetics to consume because fibre helps control blood sugar levels. To capture your guests' attention, serve them beautiful platters featuring fruits in all the colours of the rainbow. If servers will be approaching guests with trays, they can entice guests with fruit skewers bearing slices of strawberries, watermelon, kiwi, apples, grapes, and just about any fruit desired.
Whole Grains
If you are opting for a buffet-style catered event, then sandwiches are always a big favourite. Instead of serving yours with white bread, ask your caterer to use wholemeal, rye, or multi-grain bread. For fillings, choose natural ingredients instead of processed ones, and avoid dairy fillings to keep your cholesterol levels in check. Top options include grilled vegetables, roast turkey, and hummus. Instead of using classic spreads like full-fat mayonnaise, ask your caterer if they can prepare sandwiches with mustard, pesto, tomato spread, or indeed any other vegetable-based spread made with healthy fats.
Colourful Mocktails That Excite
Your choice of beverages can make or break a party, and when it comes to impressing guests, few things impress quite as much as cocktails in a bevy of colours, served in attractive glassware or within fruits such as whole pineapples or coconuts. While some of your guests will undoubtedly ask for 'the real thing', you should also have a few mocktails on your drinks list for guests who are diabetic. This is because those who have diabetic neuropathy - a condition involving nerve damage - will most probably need to avoid alcohol. Diabetics with nerve issues generally need to watch their body mass index, wear special protective garments, and keep their sugar levels very well controlled. Mocktails made with stevia or Xylitol instead of sugar, and fresh juices instead of high-sugar commercial versions, are good choices for them. Popular choices include virgin mojitos, caipirinhas, or bloody marys.
Delights From The Sea
Fish - particularly fatty fish containing heart-healthy Omega-3 essential fatty acids - are recommended for people with diabetes. If you like salmon, your caterer can prepare smoked salmon blinis - another popular finger food choice. Salmon goes beautifully with grilled vegetables, so serve your blinis alongside foods like vegetable crudités, vegetable brochettes, or vegetable-filled dim-sums.
If you or your guests have diabetes, there is no reason why you can't enjoy a party to remember with a wide range of foods. Aim to avoid dishes that contain unhealthy fats and dairy products. Serve plenty of fruit and vegetables, as well as whole grain foods and healthy fish treats. Finally, don't forget to please guests with mocktails that taste just as good as 'the real thing'.